Shop at TripleClicks
2014-07-08 20:33:53
---
TripleClicks

E-COMMERCE ASSOCIATES (ECA)
On-line Store




Through the TripleClicks (TC) ECA (E-Commerce Associates) program, we're partnering with companies and businesses of all kinds across the world to create one of the World Wide Web (on-line) premier shopping destinations.

TripleClicks is currently (at this time of posting) partnered with 6,977 ECAs from 168 different countries--representing tens of thousands of products of all kinds and growning evryday.
Once you join you'll automaticaly have your vary own TConnect Page to sell your unwanted stuff at home. Your personal TConnect page is like an on-line guradge. You can add a breaf discription about you and what you have to offer to the world. You'll be provided with your own link to get others interested in what you have for sale.
TripleClicks has it's very own email system provided for you to send emails to your family, friends, co-workers and others acquainted with you.
Member Rewords Points (MRP)
Every time you buy any product(s) and/or services you'll be reworded with member rewords witch you can us and /or save for future us on any product your about to buy. You can also transfer your MRP's to TCredits.  note: MRP's will expire in one your if not used at the time you recieve them.
TCredits
TCredits allow you to take FULL advantage of your TripleClicks member benefits. Use your TCredits for member listings, to bid on Pricebenders Auctions, to participate in contests, download songs from TripleClicks Music, and more.

You also get TCredits from buying products and/or services. There also for sale, buying one TCredit is $1.99 or you can buy the package(s) for as little as .29 cents each. At this time TC has 6 packs you can buy starting from 10-200 Packs, the caust varies from what package you buy.
PRICEBENDERS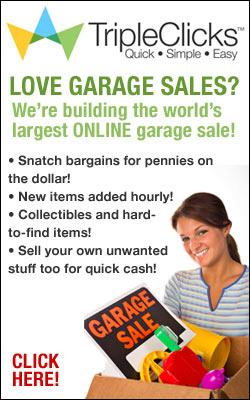 TC's "penny auctions" allow you to bid on and win hot new products--like Amazon Kindles, iPads, silver bullion coins, Blu-ray players, and many more--for a FRACTION of the retail price (typically more than 90% off).
Each time you bid on products you get member rewords for particapting, this is aworded when the auction is done and over.
Games for your Intertainment
TC provides games for your intertainment and you also earn member rewords points for particapating. In order to particapate in the games you need TCredits.
Games like the
Knockout Trivia, Outlast other players in answering trivia questions to win a share of the KO Trivia Zackpot. Time Machine, where you answer a questions provided for you.
Pick The Price, this is where you can guess the price of the products and win member rewords Points.
T-Time is where you inter a drewaing for a certain product to win.
TripleClicks' own Battle of the Bands! The TripleClicks Song-of-the-Month Contest provides music artists from all over the world the opportunity to expose their best songs to 2.7 million TripleClicks.com members. Just upload a song each month. TripleClicks members then vote for their favorites.
note: Rules are at every game pages. Be sure to read threw them.
WAVE3 Program


   Just for helping us spread the word about TripleClicks, you can get:

   * Free monthly TCredits you can redeem on products, music, Pricebenders auctions, and more

   * Free monthly Member Rewards Points (MRP) you can redeem on any of over 98,000 products at TripleClicks

   * Free download of TripleClicks' Song-of-the-Month

   * Unlimited chances to win $100s in our weekly W3 Cash Drawing and unlimited additional TCredits and MRP too

* Exclusive member-only specials

Joining the wave is easy! Just order a free W3 kit (you pay only a one-time $1.95 for shipping & handling) and follow the directions to immediately begin receiving your first month's allotment of TCredits and MRP.
CLOSEOUTS & OTHER DEALS
TC is quickly gaining a reputation for having some of the Web's hottest deals.  Our Hot Deals section currently features 292 products marked down as much as 99%. And our Closeouts section currently has 865 products marked down as much as 90%. Wow!
Once your a member of TripleClicks all the information is provided for you.
Join

and start your savings